Moor Medieval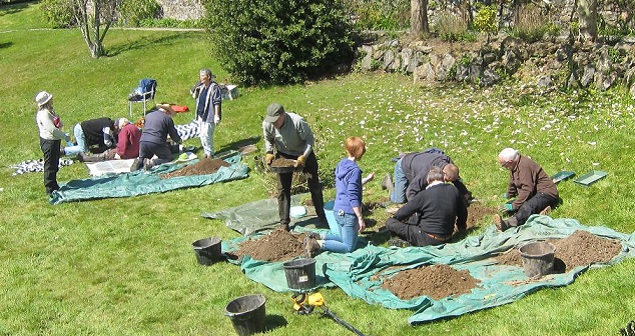 Test pitting at Bovey Tracey April 2016
MOOR MEDIEVAL is a parish based project which aims to develop understanding about medieval life and to explore the effect that early farming, and other influences had upon the landscape of Dartmoor over a period of more than a thousand years.
Dartmoor is a place of unique landscape heritage interest where generations have left an impression of their time and place, each layer being more or less visible, all with at least high cultural significance. Medieval Dartmoor is no exception, and yet an informed understanding about the life of these generations, and the breadth and depth of their legacy over a thousand years, is both fragmentary and often unseen. Many connections wait to be made to help us create the picture of medieval life on Dartmoor.
The focus for the start of the Moor Medieval project is around an area of particular medieval significance where Ancient Tenements group near to the East and West Dart on the east side of Dartmoor Forest, close to the adjoining manor of Spitchwick in the parish of Widecombe in the Moor. This co-existence of land, settlement and other features, cheek by jowl, tells us about land use, farming, economy, buildings, transhumance, people etc. It has left behind a pattern of life which is elusive, but where undiscovered evidence still survives. Likewise, documentary evidence can provide understanding of medieval life and also shed light on material survivals.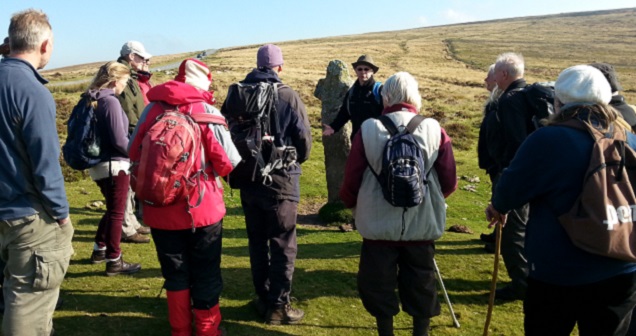 Moor Medieval Study Group field trip to Headland Warren
In February 2015, the Moor Medieval project was launched with a symposium held at Parke entitled 'Longhouses and hard lives: Daily life on Dartmoor in the Middle Ages'. It was introduced by Ian Mortimer with papers from him and other eminent speakers. The day proved to be a well attended event and very successful project launch - see opposite for details of speakers and a résumé of their talks. Following the launch a study group was established to carry forward project aims.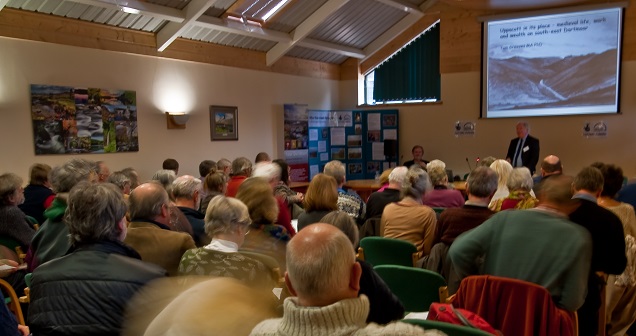 The project was launched in February 2015 with a Medieval Symposium
MOOR MEDIEVAL STUDY GROUP (MMSG) was formed in April 2015 and meets regularly on Saturday mornings in the Meeting Room at Parke. Details of plans for future meetings, guest speakers, dates, events etc. can be found under the meetings tab or in the events listing.
NORTH HALL MANOR is a keynote project funded by Moor Medieval and based in the village of Widecombe in the Moor where an archaeological investigation is now well underway. Our most recent archaeological dig proved to be a very successful community event and has taken us right to the heart of medieval Dartmoor thanks to Andy Crabb (DNPA) and to the determination of Peter Rennells to uncover the real story behind the Manor of Widecombe Town.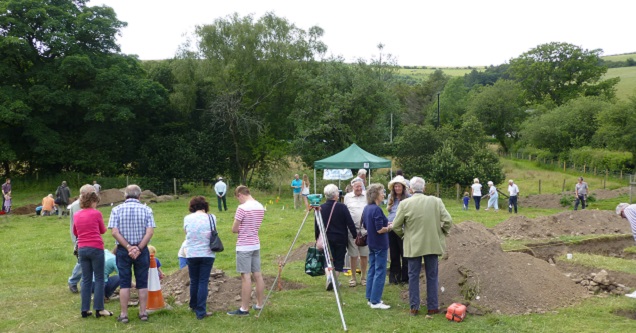 Moor Medieval Open Day July 2015
The Study group is indebted to Dr. David Stone for his unceasing commitment to the MMSG since the inception of the group in April 2015, and for his encouragement to engage with a variety of study projects over the next three and a half years. This will bring our project to a new understanding and view of the place we call Dartmoor and its medieval heritage.

FIELD TRIP TO DUNNABRIDGE JUNE 2017
The Moor Medieval Study Group was fortunate that during a very wet week for June we chose a dry morning to set out for Dunnabridge. Dr David Stone led fifteen group members, two children and three dogs on a short(ish) 5 km walk from the famous pound towards 'Blakefurses' that took in several millennia of archaeological sites, but concentrated on those thought to be from the medieval period. Guided by David's expertise and aided by historic manuscripts, surveys, LIDAR and a variety of field interpretation techniques, the group explored field systems, ruined farmsteads, boundaries and rabbit warrens, some of which might not have been recorded before. Group members agreed that it was an interesting and thoroughly enjoyable day that highlighted the great potential for future fieldwork in this part of the Moor.