PARISHSCAPES CELEBRATION EVENT 2018
A celebration of Community Heritage on Dartmoor
An inspiring event was held on 10th March 2018 at Parke to celebrate the achievements of the Moor than meets the eye Parishscapes project. Twelve Parishscapes projects were represented on the day including the restoration of Buckland-in-the-moor's Ten Commandments Stones monument, Bovey Tracey's Granite Elements, Lustleigh's community archaeology project and Throwleigh's community arts performances.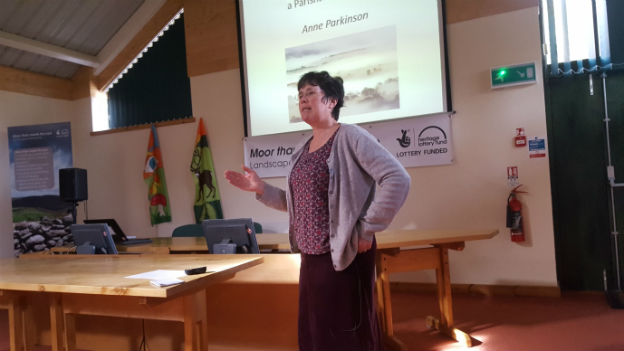 Above. With a Parishscapes grant, a new history group has been established in Ilsington.
The Parishscapes project has been working with communities across the MTMTE area since 2015, to tell the Dartmoor story at a parish level and from a community perspective. Projects are supported with a Parishscapes grant and projects can focus on cultural, natural or built heritage. Parishscapes has encouraged numerous community groups to get involved and to date, the many dedicated and passionate volunteers have given a staggering 12,000 hours of their time to the project.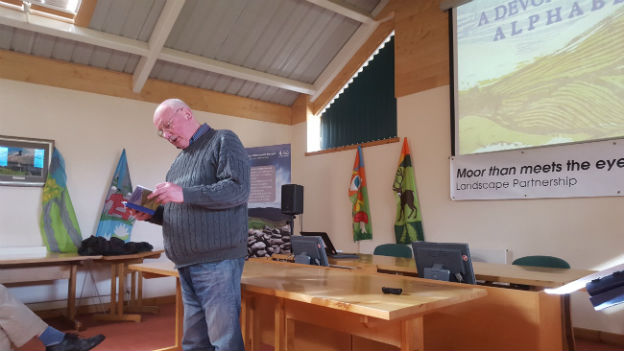 Above. Terry French from Widecombe History Group reads aloud from the Devon Dialect ABC book, funded by Parishscapes.
The day, which included a fantastic lunch from Home Farm Café, was chaired by James Platts, chairman of the Moor than meets the eye Board. In his closing speech, James attempted to summarise just some of what was covered throughout the day – as you can see, it is a diverse list!
"The projects were all encompassing…choirs, women-out-late, stannary boundaries by motor boat, genealogy, challenges of love, 2nd Millennium BC, North Devon sgraffito ware, granite tramways, wildlife, sculpture, events, bogs, orchids, insects, birds, ditches, ridgeways, ducking stools, archbishops, those that pray, fight or toil, LIDAR, assaults, fines, signal flares, Spanish Armada, all nationalities, German tools and paint, memories, identification, early Totnes ware, maps and documents, test pits, village archives kept under beds, digital archives, going online, forums, chatting, gossip, exciting history, poor houses, ale houses, hut circles, watercress beds, oral history, ownership, slums and diseases, Devon ABC, pig houses, rubbing posts, frolics, junket, performances, ghost walks, Colonel Heath's Hut, clapper bridges, boundary stones, moths, bats, open air labs, wool industry, tin mining, pottery geophysics, dye plants and dark skies. Truly Moor than meets the eye!"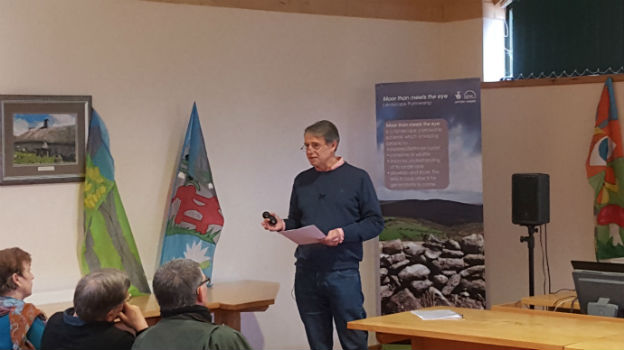 Above. Alastair Camp from the Lustleigh Society explains how the Parishscapes project enabled the community archaeological excavation of Vinnimore farmstead, to take place
Huge thanks to all those who were involved in making the day a success, in particular, MTMTE's Andy Bailey and Adrian Wade.
For more information, please contact Emma Stockley emma@moorthanmeetstheeye.org
Quotes from the day
Feedback received from those who attended the event has been overwhelmingly positive and many commented on the diversity of the projects and the benefit of coming together to learn about each other's work.
"Just to say again how much I enjoyed the event…the presentations were all interesting and everyone has worked so hard, it is all most impressive…it was a very social occasion…thanks again to you and all the MTMTE team."
"Just a little note to say a very big THANK YOU for organising the Parishscapes celebration yesterday and, most importantly, for your enormous amount of work and dedication that resulted in the extraordinary range of projects being celebrated – truly amazing and utterly inspirational."
"The amazing energy and enthusiasm of the volunteers…the day endorsed how much I love Dartmoor, it is almost a maternal feeling, fiercely protective."
"What a lovely day, really inspiring and so many diverse projects. I particularly liked the Gidleigh – Throwleigh combination and I found the presentation about Doccombe really exciting and have made a note to learn more. North Bovey's multi-project approach was awesome. It just shows what people can achieve with some kick start funding."