Throwleigh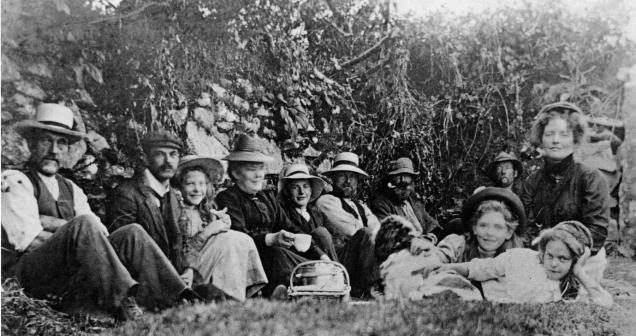 Picnic from the past
Throwleighs Parishscapes project has a number of diverse elements and is being run in association with Throwleigh Parish Council, Throwleigh Archive and Throwleigh Village Hall Committee.
The project has developed a secure and appropriate storage facility within the Village Hall for items from the Throwleigh Archive. Two permanent and rotating exhibitions using material from the archive will be located within the village hall and church as a way of sharing archive materials with members of the community and visitors to Throwleigh.

The Parishscapes grant is also being used to further develop the Throwleigh Archive website and continue the archive digitisation work currently being undertaken by volunteers.

In addition, the parish has produced two documentary arts performances involving large numbers of the local community, celebrating the history and traditions of the village.

The first of these was devised and produced by Jon Bell and Dave and Dawn Hutton for the Throwleigh Archive. It is based on a unique resource, 'Throwleigh, The Story of a Dartmoor Village' by Emmy Varwell. This was written in 1938 at a time before the substantial changes of the mid twentieth century would alter the social and economic structure of the village forever and is a wonderful evocation of a now distant time. 'The Miss Varwells Throwleigh' was performed on three consecutive nights (23rd to 25th March 2017) in the village hall to a full house and was well received by a captivated audience.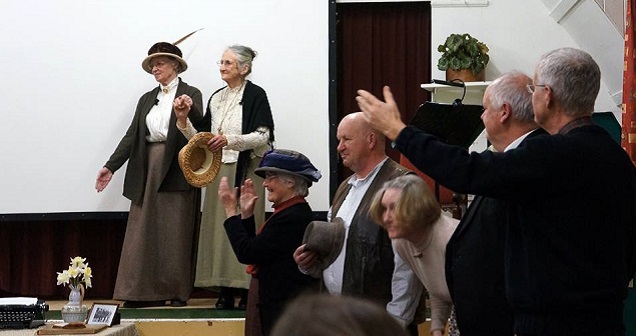 'But you must believe in pixies if you live in Throwleigh' - the cast of 'The Miss Varwells Throwleigh'.
Photo by kind permission of Alan Endacott

The flyer for 'The Miss Varwells Throwleigh'
The second documentary performance, Colonel Heaths Hut, recalls the origins of the village hall, a former Nissen Hut, and celebrates its role in village life. As with the Miss Varwells, this production was performed in the village hall and utilised archive material. Recordings of performances are available to view on the new website.
For more information about the parish of Throwleigh, please visit http://www.throwleigh.org/index.htm
Next steps...
For more information, or if you would like to get involved, please contact Emma Stockley, Community Heritage Officer and Parishscapes project lead. emma@moorthanmeetstheeye.org