North Bovey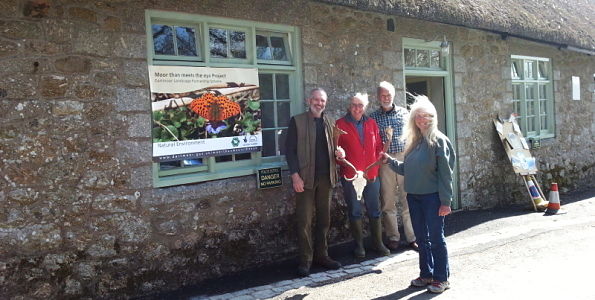 North Bovey Taster Day
North Bovey was one of the very first parishes to get involved in the Moor than meets the eye project, Parishscapes. Despite being one of the smaller Dartmoor parishes, North Bovey is certainly not short of ideas or enthusiasm!
North Bovey Conservation Group benefited from Parishscapes start-up funding – an amount given prior to a formal application for Parishscapes funding to enable the community to undertake activities to raise awareness of Parishscapes and to encourage participation. With the funding, the Conservation Group were able to make repairs to a much-loved historic feature, Dickford Bridge.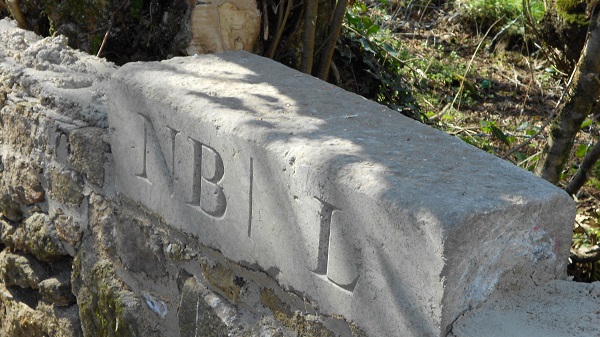 The bridge was in a poor state of repair due to a vehicle collision some years ago but has since undergone a remarkable transformation. Alongside a renowned stone mason, members of the community learnt the necessary skills to make repairs and renovations in a sympathetic manner using locally sourced materials. A new boundary stone, carved with the letters NB (North Bovey and L (Lustleigh) was shaped, engraved and incorporated into the bridge, again, by members of the community. This was in time for the community's Beating the Bounds and rogation ceremonies.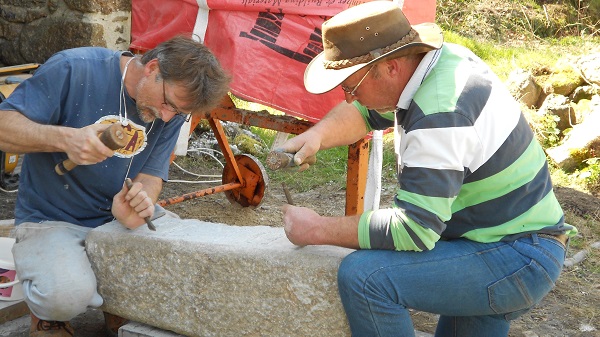 Following this, a parish 'Taster Day' was held at the village hall in April. This event was designed to find out what Parishscapes ideas the community wanted to develop further. A wide range of subject areas were represented including community science surveys (in collaboration with Open Air Laboratories, OPAL), astronomy , geology, history, spinning and weaving, wildlife surveys, tin mining, The Langaford Farm Charitable Trust, archaeology and more. The event was a huge success and attracted a large number of people.
Since then, North Bovey have developed and run a number of Parishscapes projects. These include;
Collecting data by measuring the quality of the night sky around the parish to contribute towards the Dark Skies Initiative.
Setting up a village interest centre based in the Parish Hall. Equipment is available for loan and includes moth traps, a bat detector, butterfly and moth identification cards.
Regular bat and moth surveys using equipment from the North Bovey Interest Centre.
The North Bovey Heritage Festival. This ran from 28th May – 3rd June 2016 and made use of many of the items for loan from the Interest Centre. The festival included community bat walks and moth trapping events, a parish bio-diversity survey, Beating the Bounds celebrations, wool craft demonstrations and workshops, guided historical walks and an archaeological test-pitting mini-project assisted by archaeologists from the Dartmoor National Park Authority.
Several more recent projects have been undertaken or are now in development, including a project identifying the location of the parish court house using surveys including geophysics. In addition, planning is underway for a house-history project which aims to identify any documents currently held around the village. Working with the Devon Heritage Trust it is hoped to identify the need for the North Bovey documents held by the Trust to be digitised to enable community access.
The parish was granted a further Parishscapes grant to run The North Bovey Wool Project. Wool was an important industry on Dartmoor for centuries and kept a large proportion of the population in work. Records show that there was a fulling mill in Moreton as early as 1297. For much of the time, production was a wholly family business and included carding, spinning and weaving. There was at least one fulling mill and one woollen mill in North Bovey at Blackaller. Local mills produced kersey (a coarse, ribbed cloth with a short nap, woven from short-stapled wool) and later, a finer cloth called serge which was used for uniforms. A look at the North Bovey census shows that cottages in the village were inhabited by those in the trade and a look at the Indictable Offences shows that some residents of the parish were punished for wool-related crimes. More recently, evidence of the first 'burials in wool' has been discovered in Parish records 100 years after the first act.
The North Bovey Wool project aims to find out more about the wool industry in and around North Bovey and identify where the mills were located. New skills are being taught including felting, spinning and weaving and members of the parish are creating hand-felted bunting using wool from Dartmoor sheep. Research into the types of dye plants used is on-going and some of these plants are currently growing in resident's allotments. Fieldtrips to places of interest such as Coldharbour Mill inform and guide the historical research element of the project.
The most recent felting workshop was well attended with 11 participants taking part in the event. The production of bunting is coming along nicely and 6 Parish knitters are now also on board with this crafty project.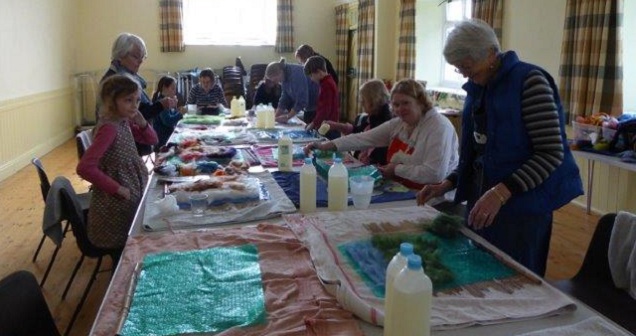 Next steps...
For more information, or if you would like to get involved, please contact Emma Stockley, Community Heritage Officer and Parishscapes project lead. emma@moorthanmeetstheeye.org