EcoSkills - Conservation Assistant Trainees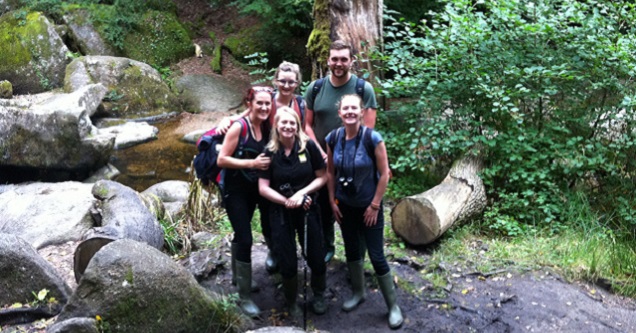 EcoSkills volunteers on an otter survey
EcoSkills is arguably the most dynamic project within Moor than meets the eye. It delivers a number of significant training and engagement outputs whilst simultaneously providing support to many other projects within the Scheme.
Essentially, this project offers tailored training programmes in conservation work for new graduates, to help them develop their vocational experience. Many voluntary and training opportunities in this sector are massively oversubscribed. Competition for 'new entrant' posts is extremely strong, but although academically well-qualified, younger applicants lack any depth of applied and field skills. Natural England plays a key role, nationally, in helping plug the skills gap in this sector. They are the lead partner for the Moor than meets the eye EcoSkills project.
Trainees are offered a year's tailored formal training that includes key vocational qualifications as well as the opportunity to work with a variety of partner organisations and projects on Dartmoor.
Formal training includes gaining qualifications in: chain-sawing, felling trees, handling pesticides, brush-cutting, 4x4 driving, trailer towing, first aid at work, health and safety, BSBI field skills (plant identification) and a Class1 dormouse licence.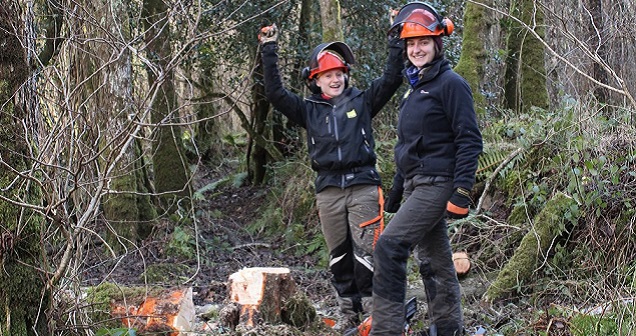 Robyn and Bekah tree felling in the Bovey Woods

Although the traineeships are on voluntary basis, a small bursary is awarded to help with travel and subsistence costs. The ultimate goal is to complete a training programme for up to 20 graduates over the 5 year Scheme. As of April 2017 we are on schedule to deliver this with our second cohort of trainees just completing their annual training programme, ready to hand the baton over to our third intake of volunteers. Of the trainees who have participated in this project so far, over half have secured work within the sector at the end of their training.
Over the course of their year EcoSkills trainees face many challenges. Practical training can be physically demanding and they must brave long days in all kinds of weather. The work often involves travelling over difficult terrain and/or using heavy equipment such as chainsaws, or wearing unwieldy PPE (personal protection equipment). At the very least our volunteers demonstrate a real dedication in everything they do.
Due to the variety in their roles, our trainees provide valuable support to other Moor than meets the eye projects. A few examples being:
Natural Connections – treatment of invasive species and management
Discovering the nature of the Bovey Valley – species monitoring, including bats
Unveiling the Bronze Age landscape of the High Moor and Forests – site clearance and management
Brimpts Tin Trail and the Granite Tramway– supporting volunteers in maintaining trails and footpaths
Engaging with the nature of the Bovey valley – volunteer task management
Parishscapes and Public events – planning, supporting and delivering events and activities for the wider community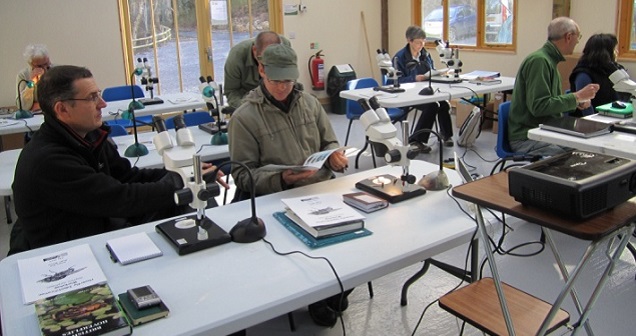 Citizen Science event at Yarner Wood

During their time on the EcoSkills training programme they gain experience in the following:
Different surveying techniques
Species monitoring (bats, otters, beetles, dormice and lichens)
Data gathering and monitoring techniques
Species identification skills
Plant identification skills
Sensitive (ecological) management skills
Practical experience
Practical tickets (formal qualifications/certificates)
Volunteer task management
Public engagement planning and delivery
Blog and social media participation

To follow the EcoSkills trainees and their work in the Bovey Woods visit the EastDartmoorWoodsBlog.
Want to know more?
Speak to Linda Corkerton, Natural England
Tel: 01626 832330
Email: linda.corkerton@naturalengland.org.uk
Closing date for applications for Trainees Programme 8th January 2018
Details of how to apply are here
Read more