In the footsteps of the Victorians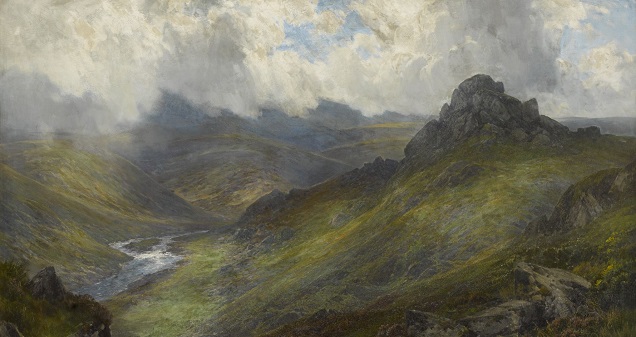 'Moorland Scene' by FJ Widgery (1861-1942) - Copyright Royal Albert Memorial Museum & Art Gallery, Exeter
This project is researching the history of the Wray Valley and the surrounding area on the eastern edge of Dartmoor during the nineteenth and early twentieth century.
The project will produce for the first time a detailed history of the changes that took place during the Victorian era that transformed the communities and landscape.

A particularly important aspect of the developments were portrayed by artists from the late eighteenth century though the nineteenth century and into the twentieth century. This will be comprehensively researched and presented in an exhibition at the Royal Albert Memorial Museum (RAMM), Exeter.
The project is now in its second year:
The researchers continue to meet regularly and are researching numerous topics. It is envisaged that all research will be completed by September 2017
Based on this research, the group will produce a book or a series of research papers. The topics include social life and celebrations, art and artists inspired by Dartmoor, quarrying and mining, the coming of the railway, schools and Lustleigh children, trades, notable families and analysis of census data
The RAMM Exhibition opened on 22nd December 2017 and ran until 1st April 2018, and was accompanied by an associated programme of events and activities, both off the moor and on it.
Additionally, there will also be an opportunity to view an exhibition based on the research in Lustleigh
A symposium was held on Saturday March 11th 2017 to bring together academics and local historians to explore the Victorian legacy on Dartmoor and across Devon. You can read about the day here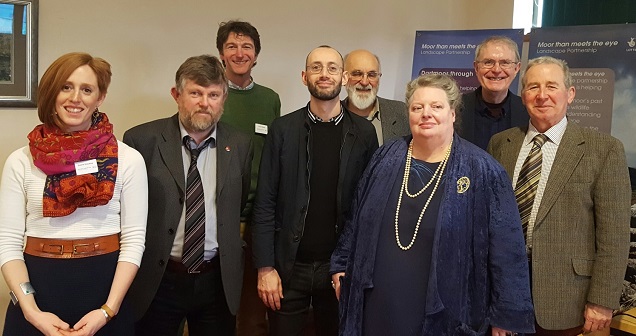 Photograph shows left to right: MTMTE Community Heritage Officer Emma Stockley, Dr Phil Newman, MTMTE Community and Events Officer Andy Bailey, Dr James Gregory University of Plymouth, Dr Paul Brassley University of Exeter, Dr Judith Rowbotham University of Plymouth, Peter Mason and Lt. Col. (retired) Tony Clark, Chairman of The Dartmoor Trust.
Selected talks from the day have been written up and can be read in the Symposium Talks section of this page.
Want to know more?
Please contact Emma Stockley, Community Heritage Officer and project lead.
Email: emma@moorthanmeetstheeye.org
Read more
In the footsteps of the Victorians proforma
Symposium Talks