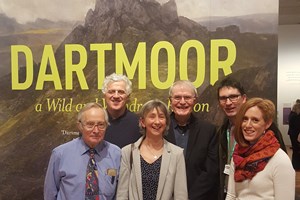 A new exhibition, Dartmoor: a Wild and Wondrous Region, has opened at the Royal Albert Memorial Museum in Exeter. This is the first major review of how Dartmoor has been portrayed in art and the largest exhibition of its kind in a generation. The exhibition contains oil paintings, watercolours, early photographs and postcards from RAMM's own collections as well as loans from British museums and private collections. Many of the works have rarely been seen in public before.
The exhibition runs until April 1st 2018 so there is plenty of time to visit and see how artists helped change peoples perceptions of the moor from 'squalida Montana Dertmore' to a 'wild and wondrous region'. A programme of events has been organised to complement the exhibition with activities taking place at RAMM and across Dartmoor. For more details of the activities taking place visit www.rammuseum.org.uk or download a brochure
The exhibition has been co-curated by Peter F Mason and RAMM, Exeter and has been funded in partnership between Moor than meets the eye and RAMM and sponsored by Dartmoor Preservation Association, Tozers Solicitors and Hawksmoor Investment Management.
Moor than meets the eye is also on show at Dartmoor National Park Visitor Centre in Princetown until 5th February 2018. The exhibition highlights some of the brilliant work that has been undertaken by volunteers across Dartmoor and our partners to help conserve Dartmoor and tell the Dartmoor Story