Flag parade to Celebrate first year of Moor than meets the eye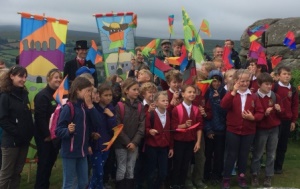 Children from Ashburton and Moretonhampstead schools braved the elements on Tuesday to walk to one of Dartmoor's finest beauty spots, Bonehill Rocks. They paraded banners and flags they had designed, inspired by the story of Dartmoor and their ancestors who farmed it.
They were taking part in a Moor than meets the eye project which began with workshops in school to discover more about Bronze age and medieval life on the moor before working with local artist Bridget Arnold to design and make the flags and banners.
The project was a chance to celebrate the first year of Heritage Lottery funding for Moor than meets the eye and to look forward to a summer of events and activities to help people discover more about the heritage of Dartmoor. Amongst the dramatic setting of Bonehill Rocks which looks out onto a spectacular view of Widecombe they met with some of the people working on the project to protect Dartmoor and heard from Tom Stratton from the Duchy of Cornwall who led them all in a toast to the continued success of scheme.
After a picnic lunch the children continued to discover more about Dartmoor's past and rolled up their sleeves to take part in the Community archaeology dig at Widecombe in search of the lost medieval manor.
Andy Bailey the Community Officer for Moor than meets the eye said "Throughout the past we've always been drawn to the moor and high places to hold important gatherings or celebrations; from Bronze Age stone circles to the Tinners parliament on Crockern Tor. This was a great chance to mark the first year of the scheme and bring people together to share their passion for the moor."