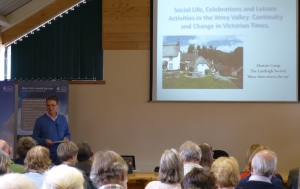 Around eighty people gathered at Dartmoor National Park Authority's headquarters at Parke on Saturday 11th March for the first ever symposium on Victorian Dartmoor. The free event, which was part of the Heritage Lottery Fund-supported Moor than meets the eye (MTMTE) scheme attracted academic speakers from the University of Plymouth, the University of Exeter as well as renowned local history researchers and archaeologists.
MTMTE Community Heritage Officer and event organiser, Emma Stockley explained "the day was inspiring and informative in equal measures and by coming together, we've learnt a great deal about how the Victorians viewed Dartmoor through a variety of media as well as looking at their impact on Dartmoor's archaeology".
Seven short lectures, with lunch provided by Home Farm Café in between, focused on the impact of capitalism on Dartmoor's landscape, Victorian tourism, the attraction of Dartmoor as a setting for crime in Victorian fiction as well as Victorian art, agriculture, photography, social life and celebrations.
Tony Clark, Chairman of The Dartmoor Trust commented "the informative presentations by knowledgeable experts revealed Dartmoor's Victorian heritage to a delighted audience. The event inspired Dartmoor enthusiasts, helping understanding of a long period of peace, prosperity, and national self-confidence for Britain".
The symposium, which included researchers taking part in the MTMTE In the footsteps of the Victorians research project, sets the scene for an exhibition of artworks at the Royal Albert Memorial Museum in Exeter which will run from December 2017 to April 2018.
For more information, please visit www.moorthanmeetstheeye.org