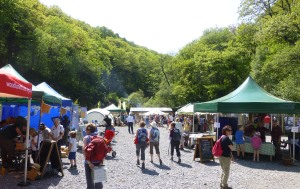 Young naturalists got a chance to explore one of Dartmoor's best woodlands at the weekend as part of our Spring Woodland Festival. The Festival was organised so that families could meet wildlife experts, go on guided walks or take part in hands on activities. There were also plenty of other things to enjoy from storytelling and cool jazz to a fabulous barbeque run by the local scouts. Over 200 came along to learn more about Dartmoor's woodland wildlife despite there being plenty of alternative distractions such as the Royal Wedding and it being a perfect beach day!
For those wishing to get away from it all it was the perfect retreat. As visitors walked from their cars they dropped down into the fresh leaved woods, following flags painted by local schoolchildren, until they emerged from the forest into a secret kingdom full of natures secrets to be discovered.
The event was all about raising everyone's awareness of Dartmoor's wildlife and was supported by local and national wildlife organisations including RSPB, Woodland Trust, Natural England, Devon Reptile and Amphibian Group, Devon Wildlife Trust, National Trust and Butterfly Conservation.
The smooth running of the event was down to the hard work of a team of staff and volunteers from NE, WT and MTMTE and all the other wildlife organisations, without whom this event could not take place. So a huge thank you to all of them for working so tirelessly throughout the day.
And if you missed it but want to explore these wonderful woods then this half term is the perfect time to do it. We'll be running a self guided letterbox trail throughout half term- just pick up a map from the office leaflet rack. Or if you want a more sedate trail then we have just printed two new walks leaflets one on Birds and one on Butterflies. These are available from the office at Yarner.
More photos of the day are on our facebook page.
For more information about wildlife at Yarner Wood and the East Dartmoor woods have a look at their blog