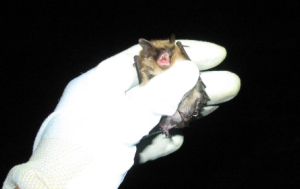 The Moor than meets the eye Barbastelle Bats project in the Bovey Valley Woods (part of East Dartmmor NNR) is still helping scientists understand more about bats to help with future conservation.
Last year researchers from Bristol University led a bat radio tracking project to look at these rare creatures.
This summer Dr. Orly Razgour, a research fellow from the University of Southampton has started to survey these East Dartmoor bats as part of her European-wide genetic research project on bat responses to global climate change. So far, Dr. Razgour has gathered information on barbastelles from Morocco to Sweden and, for a few nights in August, she brought her survey equipment to the Bovey Valley Woods.
You can read the whole story on our blog eastdartmoorwoods.org
In other bat news
We had hoped to run a Bat walk in the Bovey Valley on Saturday 3rd September as part of the Dartmoor Walking Festival. Sadly the summer came to a very abrupt end on the Saturday afternoon with torrential rain and strong winds so we decided that in the interests of both bats and humans to cancel the event.
Don't worry though if you still want to get your bat fix! The Greater Horseshoe Bat Project is running Batfest throughout September– a series of bat related exhibitions, talks and walks across Devon. For more details about these events please visit their website http://devonbatproject.org/events/