Whitehorse Hill Community Play
Whitehorse Hill Play
Inspired by life in and around Bellever from the Bronze Age to the present day, the Whitehorse Hill Community Play has brought together people of all generations from within the Dartmoor community to tell stories based on their shared heritage. The intention of this project was to produce the play for several promenade performances over the course of the scheme, to give the maximum opportunity for community members to take part in this unique experience.
Using the recent findings in the Bronze Age cist on Whitehorse Hill, in year one of the Scheme MED Theatre researched and created a script based on the history of Bellever through the various eras such as the Roman, Anglo-Saxon, Medieval, Elizabethan, Victorian, and present day. Set, props, costume and music composition were also designed and created so that these elements, along with the script, can be used as a template for any future productions.
Three key groups have been engaged to participate: children from a primary school, teenagers and adults from the wider community.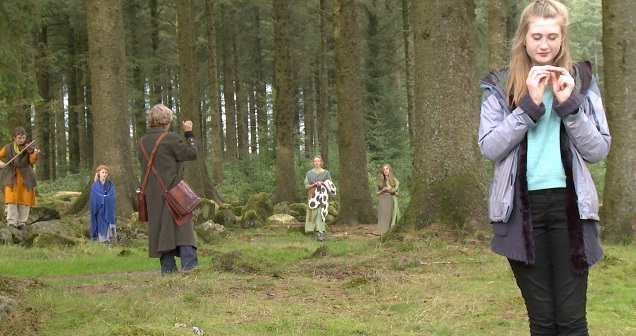 Rehearsals in Bellever Forest - pictures used with the kind permission of MED Theatre
The first round of promenade performances took place in Bellever Forest in September 2015, delighting audiences with the dramatic, funny and sometimes tragic tales from Dartmoor's eclectic history. The evocative setting was the perfect backdrop to the performances, with the audience gathering around a bonfire to watch the final scene as twilight finally settled over the woods.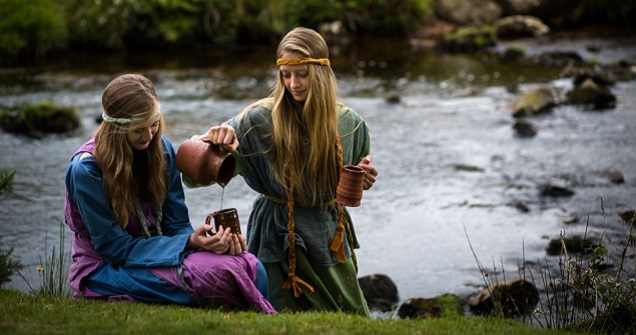 Cast members in costume - picture by Jenny Steer and used with kind permission of MED Theatre
The Whitehorse Hill Community Play was performed again on September 23rd and 24th 2017 in Bellever Forest. It will return again in September 2019.
The legacy will be a template of a community play to be performed in future years by new participants. Two participants (one adult and one young person preferably, although this will be dependent on the interest of individuals) will be invited back to be trained up by MED Theatre to become community leaders and play directors so that they can have these skills to carry out the project themselves in the future.
Want to know more?
Speak to Mark Beeson, Artistic Director, MED Theatre
Tel: 01647 441356
Email: info@medtheatre.co.uk
Read more