Discovering the Dartmoor Story
Discovering the Dartmoor Story is about reconnecting people with the landscape and the story that it tells about our ancestors. It embraces a range of interpretive techniques that are sensitive to the landscape and meets the needs of the different audiences that live in or visit the area.
In particular it is aimed at engaging the three audience groupings currently identified as priorities:
Local residents
Families, including young people
Visitors to the area
The focus of the project is on increasing the quality of the experience for the people who are already on Dartmoor or already visiting Dartmoor, rather than aiming to increase visitor numbers. This was a strong theme coming from community engagement.
Storytelling through technology
The new 'Dartmoor Story' mobile friendly website brings the wealth of information collected during the scheme and presents it in a coherent and accessible way for everyone who wants to learn more about the unique heritage of Dartmoor. The website is at www.dartmoorstory.org

Storytelling through events and activities

The 5 years of the Scheme will deliver a full programme of events created by our Community and Events Officer in collaboration with two of our key delivery partners. Now in year 4, the schedule has already included an engaging and eclectic mix of heritage-focused entertainments, including at least one large scale event each year, numerous family activity days and informative walks/talks. Please view our events listings and our social media on twitter and facebook for more information on upcoming events.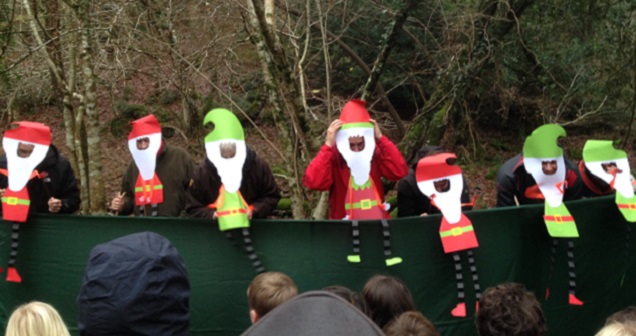 Dads volunteer for some audience participation at the Yarner 'Panto in the Woods'

Storytelling through interpretation
Given the sheer depth and breadth of information about Dartmoor and it's heritage, a range of interpretive materials are being designed to help tell the 'Dartmoor Story' in some of it's significant locations.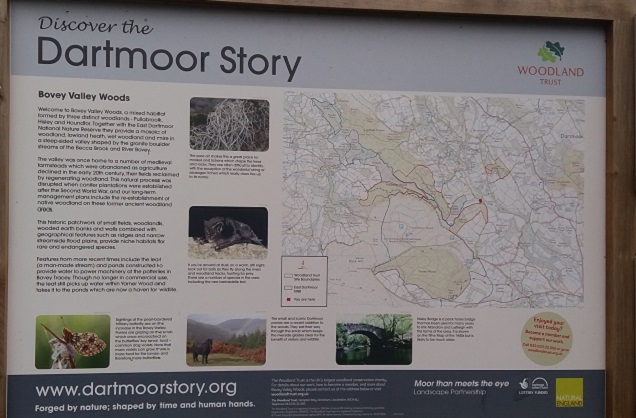 'Discovering the Dartmoor Story' interpretation board at Pullabrook Woods, Bovey Valley

This will involve providing information in a sensitive way at key sites such as:
Higher Uppacott (rare Medieval longhouse),
along the Wray Valley Trail (following a route used during the days of the iconic Victorian railway era)
at Birch Tor (a fine example of the Moor's tin mining heritage)
at the Dart Valley (local wildlife) and also Haytor Visitor Centre (wildlife heritage hub)
Information boards sensitively placed within the Bovey Valley (East Dartmoor National Nature Reserve)
Leaflets and other interpretation to complement the information on offer