Higher Uppacott: A Dartmoor Longhouse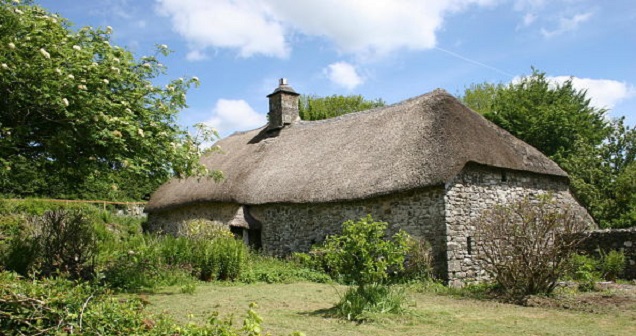 Higher Uppacott
Higher Uppacott is a grade I listed longhouse with early - mid 14th century origins where the lower-end shippon remains intact. This designated heritage asset has international significance and is emblematic of Dartmoor's medieval farming built heritage. A range of enhancement opportunities have been identified to express our developed vision for the former farmstead heritage buildings and site.
The project involves physical work to preserve and enhance the designated heritage assets, their settings and the site. This is based on good building conservation practice where informed understanding and identification of significance, heritage value have been identified as a pre-requisite to decision making.
The project includes provision of better access to the building for people with disabilities and improved car parking; through a small car park for people with disabilities and the negotiation of an access agreement with neighbouring landowners to improve the availability of car parking for organised events.
As well as on site interpretation, which will be determined in detail as the project progresses, there will be an ongoing programme of events to allow people to understand the changes to the building.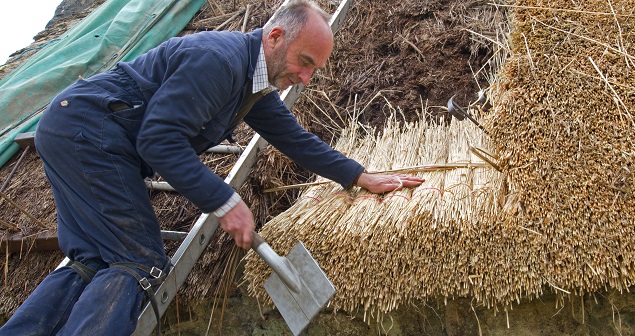 Re-thatching the roof
Members of the Moor than meets the eye Community Stakeholders Group and representatives of Heritage Lottery Funding have visited the site to view the work in progress. Since the start of the scheme the longhouse has undergone significant changes:
Thatch renewal of the roof was completed in the Summer of 2015
Scantile slate roofing works on the out-shut was completed in the summer of 2016
Work has been carried out on Barn Cottage included re-roofing and replacement windows
Work has taken place on the restoration of the interior of the house, including ceiling works and the opening up of the original shippon
Exterior earthworks are underway to clear the site ready for the next stage of the works schedule
Works to the interior and to the shippon were substantially completed by autumn/winter of 2017
Exterior works should be completed by summer 2018
Higher Uppacott has welcomed groups of visitors throughout the process and hosted two open afternoons for heritage officers and conservation professionals. Opportunities for the public to visit this unique project will resume once building works are complete.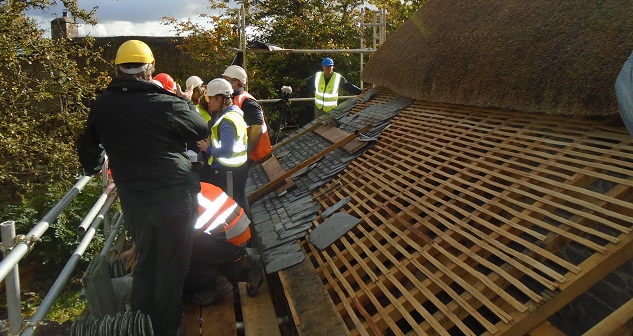 Heritage and conservation officers during an open day visit
Want to know more?
Speak to Andrew Watson, Head of Recreation and Estates, Dartmoor National Park Authority
Tel: 01626 831057
Email: awatson@dartmoor.gov.uk
Read more