Widecombe-in the-Moor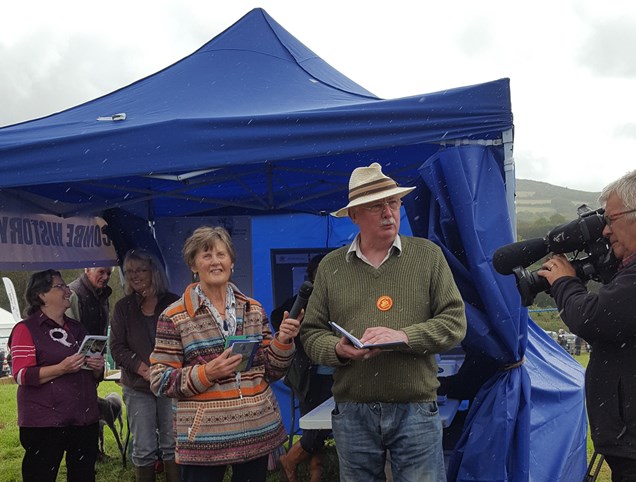 Widecombe History Group launching the A-Z of Devon Dialect at Widecombe Fair 2017
A book featuring an a-z of Devon dialect has recently been published thanks to a Parishscapes grant awarded to the Widecombe History Group.
The book was inspired by a traditional rhyme quoted by the late 'Wag of Widecombe' Anthony (Tony) Beard and was illustrated by Widecombe-based artist Joanna Radford, who sadly passed away in 2016. The dialect featured in the book includes some local examples and much of the original artwork was inspired by scenes and locations from around the parish.
The book was launched at Widecombe Fair on 12th September 2017 and the event was attended by Anthony Beard's widow Wendy, members of Joanna Radford's family and members of the local community.
Parishscapes project lead and Moor than meets the eye Community Heritage Officer Emma Stockley explains "publishing this beautiful dialect book has helped to preserve an element of Dartmoor's heritage that is seldom recorded in written form. The project wouldn't have happened without the kind support of the Radford family and Widecombe History Group, so a huge thanks to them for all their hard work in making this project a reality".
Nick Radford, Joanna's son elaborates "there were only five handprinted copies of the Devon Dialect Alphabet book, plus a few facsimiles. Joanna and Anthony were both members of the Widecombe History Group, and their intention was that a version of the book should benefit the group. The Parishscapes grant enabled the book to be published on a larger scale, bringing it to a wider audience, and in doing so, helping to raise money for the Widecombe History Group to fund its community projects. We are very grateful to the Parishscapes project for making this possible."
Sales from the book will support a legacy of future community heritage projects within the parish, led by the History Group. To buy a copy of the book, please visit https://www.widecombe-in-the-moor.com/history/alphabet/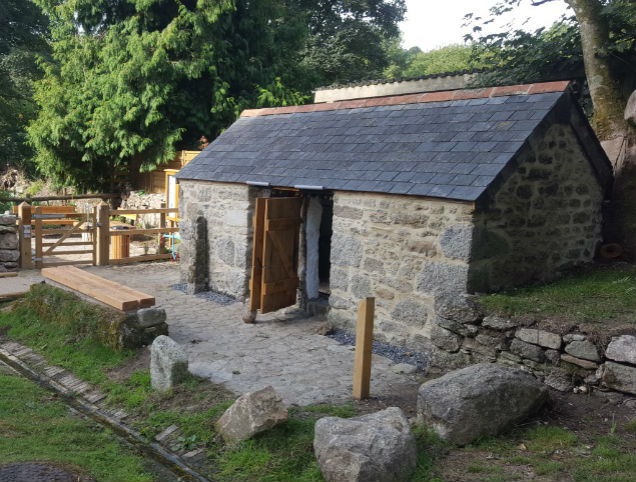 The Old Pig House, Widecombe
A second Parishscapes grant was awarded to Widecombe History Group, this time to support the restoration of the Old Pig House. The building, located close to the Saxon Well near the village centre, has been restored using traditional materials and a small stock-proof memorial garden for the community and visitors to enjoy has been created from adjacent land. The site include a noticeboard that will house interpretation panels for visitors as well as local information about flora and fauna, Dartmoor rural skills, village life and history. The Pig House itself will contain farming artefacts and the interior will be viewable through clear acrylic panels.
For more information and images of the restored pig house, click here.
Next Steps
For more information, please contact the Community Heritage Officer and Parishscapes project lead Emma Stockley emma@moorthanmeetstheeye.org
01822 890 904
07749 855 373