Buckland-in-the-Moor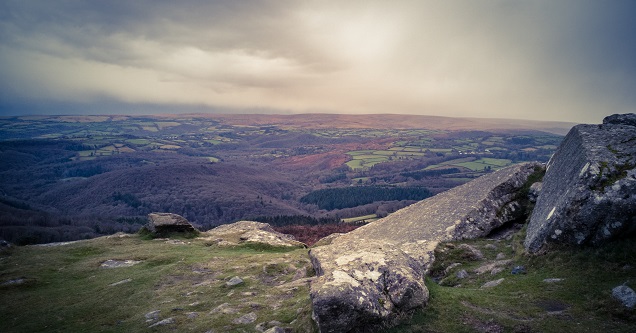 The Ten Commandments Stones, Buckland-in-the-Moor
The parish was successfully awarded their grant for work on the Ten Commandment Stones. Emma Stockley, the MTMTE Community Heritage Officer, wrote and submitted an application to the Dartmoor Community Fund which was also successful, ensuring sufficient funding was available to bring this special and unique project to life.

Work started on the Ten Commandment Stones restoration project on Monday 22nd May 2017 for five days, with the arrival of Bath-based conservator and lettering expert, Iain Cotton. Iain and his colleague Richard worked on-site for a week to carefully clean each individual letter ahead of a second phase of work starting on 12th June. The pair were incredibly fortunate with the weather and made excellent progress. A number of videos about this project can be viewed on the Enjoy Dartmoor Facebook page.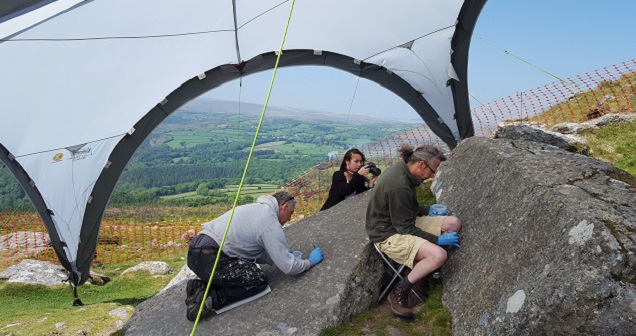 The Ten Commandments Stones on Buckland Beacon were commissioned to celebrate the rejection by parliament of the proposed new common book of prayer in 1928. The Lord of Buckland, Mr. William Whitely of Wellstor commissioned stonemason Mr. WA Clement to undertake the work, which was started on 23rd July 1928 and finished by August of the same year. As well as the ten commandments, Mr. Clements added an eleventh; "love one another". He also included the dates when the bill was read out in parliament, 15th December 1927 and 14th June 1928.
Links: www.iaincotton.co.uk
Next steps...
For more information please contact Emma Stockley, the Community Heritage Officer and Parishscapes project lead.
emma@moorthanmeetstheeye.org