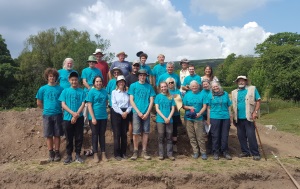 A month-long celebration of Widecombe's medieval past has just reached its conclusion with the end of the final season of excavation at North Hall Manor. The project was kick-started with a series of walks and talks by the Moor Medieval project's Dr David Stone and members of the DTRG. Guided walks to explore Challacombe, Hutholes, Jordan, Houndtor and Dunnabridge gave participants the opportunity to explore, and learn more about, Dartmoor's medieval past and attracted over eighty people.
As part of the programme of activities in the run-up to the excavation, MTMTE's Andy and University of Exeter's Imogen Wood worked with sixty pupils at Widecombe Primary School and local artist Yasuharu Tajima-Simpson, to create medieval-inspired sgraffito tiles. This was supported with funding from the Devon Guild's Free Hand craft education programme. Andy supported the school with their summer term school wide topic to learn more about medieval life enabling them to visit Higher Uppacott medieval longhouse and their end of term production about Robin Hood of Yarner Wood!
The excavation took place from Monday 9th until Saturday 21st July, led by Marc Steinmetzer of Oakford Archaeology and DNPA's Andy Crabb, with a team of local volunteers, returning for a final time to the site. Previous excavations revealed wall footings, boundary works and pottery suggesting the presence of a high status medieval building and one of only a handful of moated medieval manor houses in Devon. This year's dig added to this knowledge and shed more light on the site's earlier timber-phase, later construction and location of part of the moat.
The community dig involved almost thirty volunteers each day with students from South Dartmoor Community College taking part over their Enrichment Week, work experience students from colleges from across Devon as well as undergraduate students from Leicester, Exeter and Sheffield. As well as students, many of our regular volunteers took part, some from Widecombe History Group and other's from further afield.
Two primary school days were held with a further sixty children attending. With frequent visits from members of the public, tourists and friends from other projects, no two days were the same!
A home-education day saw almost sixty local families take part in calligraphy workshops, excavation and finds processing. For many, it was their first time on an archaeological site and there was an abundance of enthusiasm from even the youngest members!
The open day on Saturday 21st, which attracted over 400 visitors, was an opportunity for visitors to explore the archaeological remains, meet re-enactors and take part in wet-felting and medieval-inspired foraging workshops.
Huge thanks to all those involved – Margaret and Michael for hosting us, Marc and Jon from Oakford Archaeology, Peter Rennells and Widecombe History Group, our DNPA colleagues, local colleges and schools and to our multitude of fantastic volunteers. We couldn't have done it without you all!
Read more about North Hall Manor and presentations from our previous medieval seminar on the Moor Medieval page
Emma Stockley