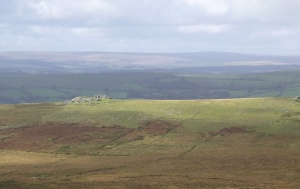 A new survey of Rippon Tor PAL has been commissioned by Moor than meets the eye to help archaeologists get a better understanding of this important landscape. The work was undertaken by Dr Phil Newman who is a leading expert in the field archaeology of Dartmoor.
The objective of the work is to provide an up to date, geographically accurate record of archaeology within this sensitive area, in order to help counter a number of key risks to the cultural heritage identified in the project proposals. In particular:
.. a general threat to the landscape character from changing agricultural practices, with past problems of overgrazing now changing to undergrazing, and an associated spread of gorse and bracken and a general increase in vegetation, which threatens archaeological remains.. (DNPA 2014)
Following a desktop survey, fieldwork was undertaken to establish the character and extent of previously recorded archaeological sites and to assess the accuracy of data held by the DNPA HER. Also, to investigate any sites of potential interest revealed through the desktop survey, but not previously recorded. This included features transcribed from an aerial photo plot by the RCHME in the 1980s, which had not been ground verified.
Survey was carried out using dual-frequency GPS to produce a 1:2500-scale geo-referenced map, to include all known accessible archaeological features within the PAL. These included prehistoric cairns, hut circles, settlements enclosures and reaves; medieval farmsteads, abandoned fields and cultivation evidence; tinworking and mining from the medieval, post-medieval and modern periods; military remains including evidence of WW2 training.
A number of sites were selected for large-scale survey at scales of between 1:200 and 1:1000, depending on the individual merits of the site. Sites surveyed at large scale, include five cairns, three hut circle settlements, one medieval farmstead and a 20th century rifle range.
Primary documentary sources were not researched in depth. However, antiquarian publications were utilised as well as late 19th-century photographic images and cartographic sources.
The reporting stage includes a summary description of archaeology within the PAL, broken down into manageable areas. Updated locations, descriptions and comments have been prepared (230 in total) for insertion into the DNPA HER, included here as a gazetteer, and all surveyed sites have been output for inclusion in the DNPA GIS. A statement of significance has been compiled for the individual categories of prehistoric sites, specifically their local, regional and national importance, and for some of the medieval and post-medieval remains. Some research and survey priorities are highlighted.