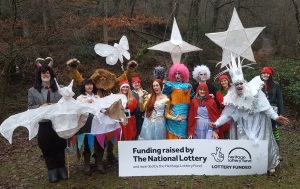 Over 80 people braved the rain last Saturday (8th December) to take part in the Yarner Wood Christmas Pantomime Walk, to discover that there really is more than meets the eye to Dartmoor's woodlands, even in the winter.
They were treated to performances from colourful pantomime characters as they entered the world of Yarnia through an old upcycled wardrobe. There was a lot of audience participation throughout he walk to defeat the wicked Ice Queen and stop her from banning Christmas. Good won out in the end.
Andy Bailey, Community Officer for Moor than meets the eye said, "We wanted to find a fun way to help families get closer to nature even in the winter. We had a great turn out despite the rain showers and everyone has had a wonderful festive time." The walk was organised as part of the #ThanksToYou campaign which has been thanking people who play the National Lottery which supports good causes such as the Moor than meets the eye scheme.