Dartmoor non-native plant control project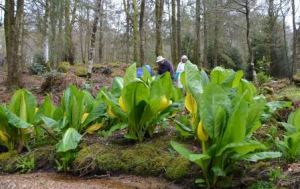 There are a number of invasive non-native plant species that occur on Dartmoor, of which three species, Japanese Knotweed and Himalayan Balsam and Skunk Cabbage are the most significant. All three species are highly invasive weeds, posing a real threat to the native flora and important habitats on Dartmoor. Japanese Knotweed forms dense thickets but is as yet not covering large areas of valley habitat or occurring on the open moor. Himalayan Balsam however is now covering whole fields, river valleys, and is also now appearing on the open moor. The dense tall thickets have a major impact on nature conservation, archaeology, access and landscape value. Skunk Cabbage is more localised in its distribution, but is now starting to become an issue from high up in the Bovey catchment.
There is a growing recognition that if something isn't done soon on Dartmoor, the problem will increase rapidly and grow to an enormous scale. At the same time, Dartmoor is the top of the catchment for most of Devon's rivers; therefore there is the opportunity to start eradicating the plants from the source of the original introduction and work methodically downstream. The control of Himalayan Balsam, and other invasive plant species, is one of the work areas of the MTMTE Community Ecologist, focusing on the main within the rhos pasture valley systems at the top of the Dart and Bovey catchments.
Whilst it is recognised that the problem is far wider than the MTMTE project area, an integrated and coordinated control project will be piloted in these two catchments in 2016, targeting both Himalayan Balsam and Skunk Cabbage. The approach is to work with local landowners and tenants, as well as rangers, volunteers, and voluntary wardens. The top of each tributary within the two pilot catchments will be surveyed for these invasive species to establish the source of the problem. Targeted eradication work, involving a suite of different measures appropriate to each area will then be carried out during the most effective time of year. We will also run workshops and provide information to the wider Dartmoor community on invasive species and to control them.
For more information on how you can get involved or if you spot Himalayan balsam or American Skunk Cabbage in the upper Dart and upper Bovey catchments please contact chrissy@moorthanmeetstheeye.org