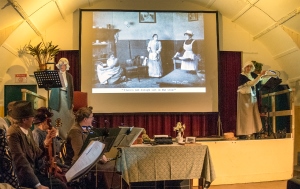 On 3rd March, members of Throwleigh parish (and some from across the border!) performed the Parishscapes-funded 'Miss Varwell's Throwleigh' written and directed by Throwleigh resident Jon Bell. The performance told the story of two unmarried sisters, Emmie and Michael Varwell, who arrived in 1909 to set up home in Throwleigh. In 1938 one of the sisters, Emmie, wrote a book,'Throwleigh, The Story of a Dartmoor Village'.In it Emmie describes her love of the landscape and the history of the area, and for the people that she had known (as well as her belief that pixies lived amongst the moss-covered stones lining the parish lanes). It is this book which formed the inspiration behind the project.
The performance brought to life key characters from Throwleigh's past such as the influential Rector, the blacksmith, the last of the Devon wrestlers and an old lady whose family's memories stretch back as far as the English Civil War. Dispersed with traditional folk songs and music, the performance included projected images from the parish archive. Spontaneous applause, and a few tears broke out when a photo of Mr and Mrs Endacott (seated in the audience) appeared, showing them on their wedding day, 68 years ago.
The evening was hugely enjoyable; entertaining and poignant in equal measures. Emma Stockley, Parishscapes project lead elaborated "the community have worked together and have given an incredible 700 hours of their time to create a truly unforgettable performance – well done to all those involved. I'm really looking forward to seeing next year's performance, 'Colonel Heath's Hut'".
For more information about future events visit http://www.throwleigh.org or www.moorthanmeetstheeye.org