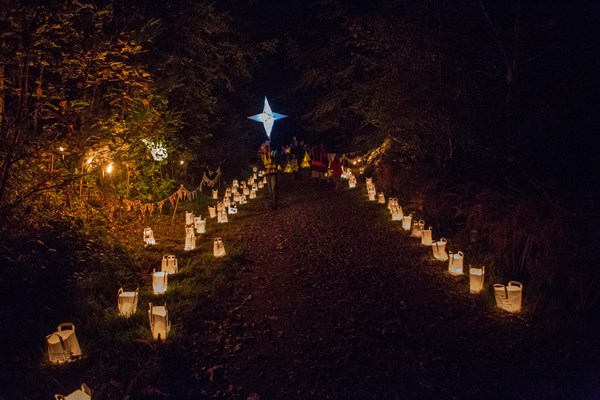 Have you walked in a Dartmoor woodland at night and listened to the sounds of the wild wood in the dark?
Over 100 people joined MTMTE to explore the Dartmoor story and discover Pullabrook woods in a magical lantern lit walk filled with stories, music, poems and excitement.
The atmosphere was cool and the air was still. As darkness gradually spread through the woods lights began to glow, candles flickered in jamjars and people gathered with lanterns that had been made in workshops with local schools. They were led into the woods by the moon and the stars- giant lanterns to guide the way and embarked on an atmospheric woodland adventure.
A storyteller told fantastic tales whilst musicians filled a glade with mellow music. Deeper into the wood, poems and writing by local children were illuminated on paper lanterns and bats flitted overhead helping to create a truly memorable event before a fiery finale celebrating wildlife rounded off the evening.
The lantern walk was organised to help people make a greater connection with these woods and to give families a chance get out and explore Dartmoor after dark. For many people this was a first chance to explore the woods and it is hoped that for them this is the start of a long association with these woods and the Bovey Valley.
Event organiser Andy Bailey said, "It's great to be able to give people a chance to come out together and explore the woods at night in this magical way. I really hope that it sparks a lifelong interest in our wild places and stirs a passion to protect them for future generations. This is part of a programme of activities for everyone to get involved in; from family walks to wildlife workshops, woodland demonstrations to volunteering"
During the Autumn half term there will horse logging demonstrations taking place in the Bovey Valley. See here for more details.
A selection of photos from the event are available to view on the MTMTE Facebook page.