New exhibition explores Dartmoor's tin mining past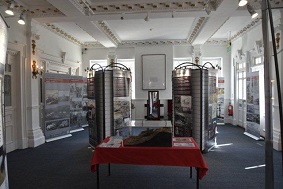 Visitors to the Dartmoor National Park Visitor Centre in Princetown can see a fascinating exhibition by the Dartmoor Tinworking Research Group (DTRG), telling the story of tin mining on Dartmoor -or -how to get from tin ore to modern electronics, via medieval technology.
Celebrating 25 years since the DTRG was founded; the exhibition focuses on Dartmoor tin extraction and processing through time. It also highlights some of the Groups current projects, including work funded by the Heritage Lottery Fund through the Moor than meets the eye Landscape Partnership Scheme.
From the earliest days of extracting tin from moorland streams through to the shaft mining of the 19th century, tin mining has had a powerful influence on Dartmoor – so much so that tinners on the moor had their own parliament and could make their own laws. In fact the extraction of tin, through its various methods, has, over the centuries, had a huge influence in shaping the landscape we know and love today.
Learn more about this fascinating chapter of the Dartmoor story through colourful displays, archive mining images and a look back over 25 years of work, including recent improvements to the Brimpts Tin Mines Trail – a great adventure for all, exploring a historic tin mining site near Dartmeet. The new Brimpts Tin Mines Trail Guide will also be on sale at the exhibition.
The exhibition runs at the Visitor Centre until 25 May 2016. The Centre opens daily from 10.00 until 17.00